Before you invest in a vehicle, here are some things we think you should know.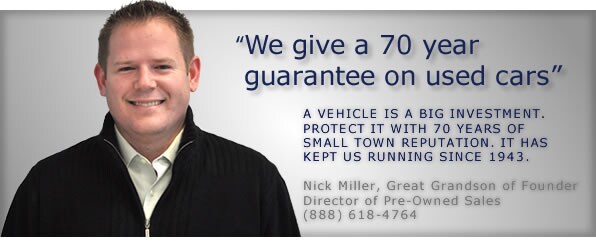 Computer Based Pricing: Fair Every Time
Nick explains our computer based pricing system.
We use an objective computer based method to determine used car prices and trade-in pricing. The program scans the market for retail prices across the nation and locally. It compares the demand for your vehicle and the supply in the local area. It references the major pricing indexes: Black Book, Kelley Blue Book, and NADA. All these factors are then weighed against our own local stock. The result is a price that is fair for all parties, based on real data. We never take advantage of people and we would be happy to show you what goes into determining your trade-in price and show you the data. We make our living by honestly buying and selling cars at fair prices. We treat every customer and every car with respect and fairness.
110 Point Inspection: the Moberly Motors Advantage
Moberly Motors has an unfair  advantage over your corner used car lot?mechanics. We have one of  the area's most sophisticated well trained shops. We don't sell cars  that we just guess are OK; we sell cars that have been rigorously  tested and probed by certified mechanics. We have a 110 point  inspection that all our used vehicles pass (with less than 100k  miles), or they don't get sold.   We also have an advantage that big city dealers don't have. We're  local. So if you need warranty work, we are here, not a two hour  drive there and back. Not to mention a lost day of work waiting. Our  Mechanics are our mechanical advantage over big city dealers and the  corner lot.
Extended Warranties
Many of our vehicles have factory warranties still in effect. We also offer extended warranties for a worry free experience. Our extended warranties have four levels of coverage to choose from, ranging from premium full coverage to basic power train. Ask our sales staff to explain the options for your particular vehicle.
Let Us Find It For You
Let us do the work for you. Tell us  your budget and needs and we will find you the perfect vehicle. We  are professionals. We are honest, and we use a computer based pricing  system to make sure you are getting a fair price. We inspect the car,  bring it to our lot, and take care of the paperwork--very convenient,  very personalized. Contact us at (888) 618-4764. Or go to our Car  Finder Page.
Make an Inquiry
* Indicates a required field