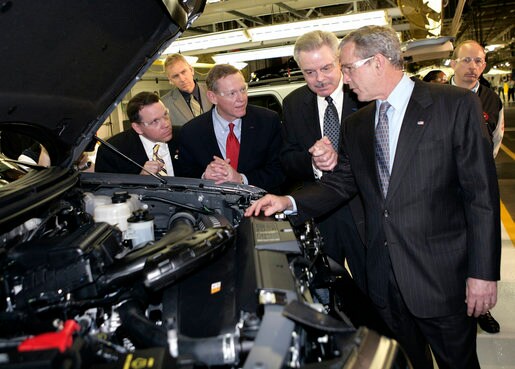 The former president visits the Ford plant in Missouri (Photo Wikipedia Commons)

The Ford F150 is made in Missouri. A great reason for Missourians to buy a Ford Truck. The F150 is the best selling vehicle in the US for 24 years. A tribute to the hard working Missourians who craft these trucks. The Claycomo, Missouri plant is one of the largest plants in the US, and it is said that about one truck a minute can be produced there at full capacity, according to Fortune Magazine.
Ford is a proud American brand. The only maker not to take bailout money. With their house in order and their heads held high, they kept going through the hard times, without dipping into your pockets. Ford is also American owned and not owned by foreign auto makers. Buying Ford keeps America and Missouri strong. Thousands of dollars stay in Missouri, and when you buy in Moberly even more money stays in your community, it doesn't get sent overseas.
Not only is the F150 a patriotic buy, it is the best truck in its class. With the new EcoBoost engine, it is now the most powerful and fuel efficient at the same time. Read about the amazing details on Ford's site, or better yet come to Moberly and test drive one for yourself.
Keep Missouri strong. Buy Ford F150.