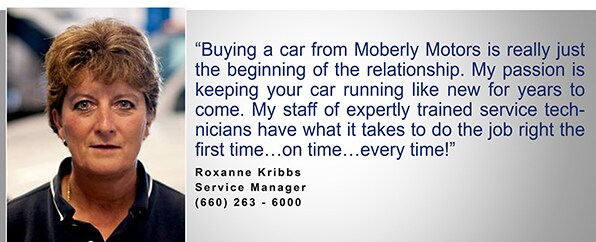 When you compare apples to apples, Moberly Motors is actually a great value. When compared to other shops in the area our labor prices are very comparable, and due to our experience and technology the repairs can take less time.
With parts, you get what you pay for. A reconditioned part does not compare to a factory part, all repair men know this. That's why we offer the best value not the cheapest part.
We have all the latest diagnostic equipment to keep our repairs fast, accurate and low cost.
We have rental cars available to keep you moving while your vehicle is repaired. No other shop in the area has that. Insured repairs often cover this cost.
Most of our techs have certifications. This means that they have passed rigorous tests in their area of expertise. Making them some of the most qualified mechanics in the area.
Hours
Monday

7:00am - 5:30pm

Tuesday

7:00am - 5:30pm

Wednesday

7:00am - 5:30pm

Thursday

7:00am - 5:30pm

Friday

7:00am - 5:30pm

Saturday

Closed

Sunday

Closed
Directions
Get Directions